Governor of Lagos State, Babajide Sanwo-Olu, momentarily stopped his convoy on Thursday to speak with two teenage girls who were on an errand for a bean cake vendor during school hours.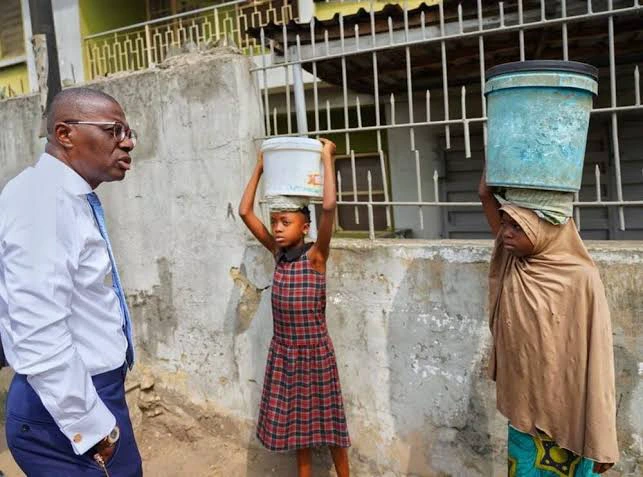 This is according to a statement issued by Gboyega Akosile, the Governor's spokesperson.
The girls – Amarachi Chinedu, 9, and Suwebat Husseini, 12 – were forced to leave school by their parents in order to provide domestic service in the Anthony Village neighborhood, according to the statement.
Suwebat's mother is the bean cake vendor for whom the girls were performing an errand, according to the statement. Her parents, who are from Jigawa State, moved to Lagos a few months ago. Suwebat's four male siblings were all in school when the Governor pulled her over on the highway. Her parents, on the other hand, requested that she stay at home and help with some household tasks.
"I had a first-hand experience this morning of what many vulnerable youngsters in our society may be going through," the Governor stated.
"On my way to this occasion, I observed something that made my heart bleed. At 11a.m., when they were meant to be at school, I noticed two little girls, ages 9 and 12, carrying buckets on their heads to crush pepper. I quickly came to a halt after seeing how vulnerable they are and the danger we are placing them in.
"I was able to hear their stories because of my interaction with them, and I have taken it upon myself to ensure that these girls do not endure the same fate again." I'm not going to abandon them. Suwebat and Amarachi will return to school. This is a classic example of what we as a society need to do differently. It is unnecessary to inquire as to what brought their parents to Lagos in the first place. We must ensure that their future is not jeopardized.
These two girls will be in mine and the First Lady's care. There are a number of Amarachi and Suwebat who will not be able to take advantage of this occasion. We can all make the same decision and listen to the stories of vulnerable children. We can all make a difference if we choose to take on this obligation as a society and offer voice to the voiceless. Giving mankind a once in a lifetime opportunity is the greatest act of charity."
Sanwo-Olu cautioned parents against breaking their backs in order to send their children to expensive institutions, saying that many government-run primary and secondary schools in Lagos are providing superior education than many private schools.
The Governor stated that his meeting with the girls highlighted the need for the government to increase its support for public schools and boost standards.
If you can't afford private education for your children, know that there are public schools that are accomplishing fantastic things," he remarked. "Why would a parent deny a nine year old daughter the opportunity to attend school?" Yes, we are making significant progress in education, but the story of these two young girls demonstrates that there is still much more to be done.
Amarachi and Suwebat did not ask to be in the situation they are in, but it is our job to provide them with the opportunities they deserve; opportunities that will enable them to be better children and citizens of this country.
The Governor called for collaboration with development agencies, calling intervention organisations such as the SWIP Initiative to work with the government to guarantee that all vulnerable people in Lagos, especially school aged children, receive the care they require.