As obtained from Punch news Nigeria, the recent Grammy award winner, Burna boy was noted as the first African to have broken the record of 200,000,000 streams on Boom play.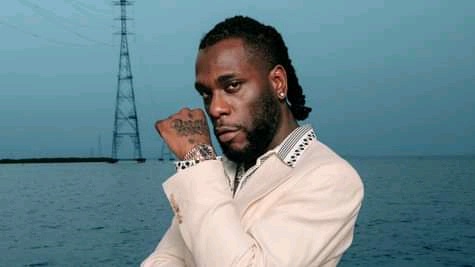 Having obtained the news from Boomplay' s Facebook page, Punch news took to its Instagram handle.
Raw from the Boomplay's page, a picture of Burna boy was given below the caption that reads: "An African Giant, standing Twice as Tall on 200, 000, 000 on Boomplay' s stream! A big shout out to Burna boy for hitting this historical milestone. . . "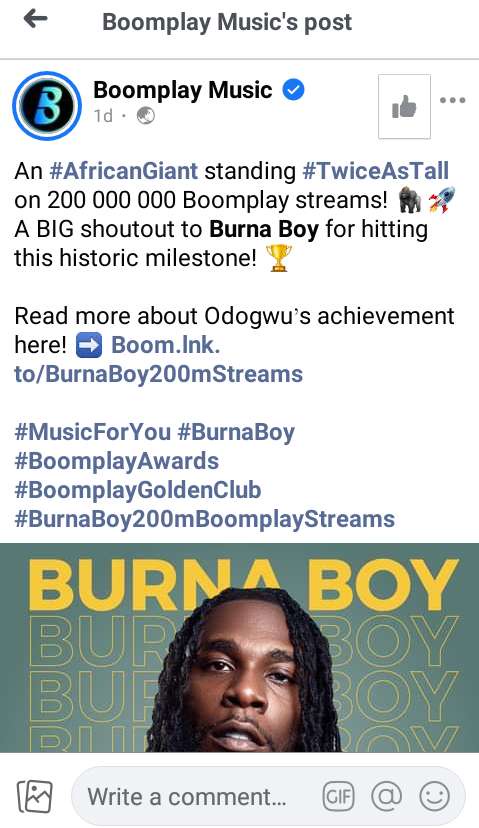 After which the page wrote again in a new post: "Odugwu you bad, e file fun Burna boy as he poses with his first-ever duo- golden club plague, for hitting 200, 000, 000+ streams on Boomplay. . . Celebrate this living legend by jamming his milestone hits on Boomplay. "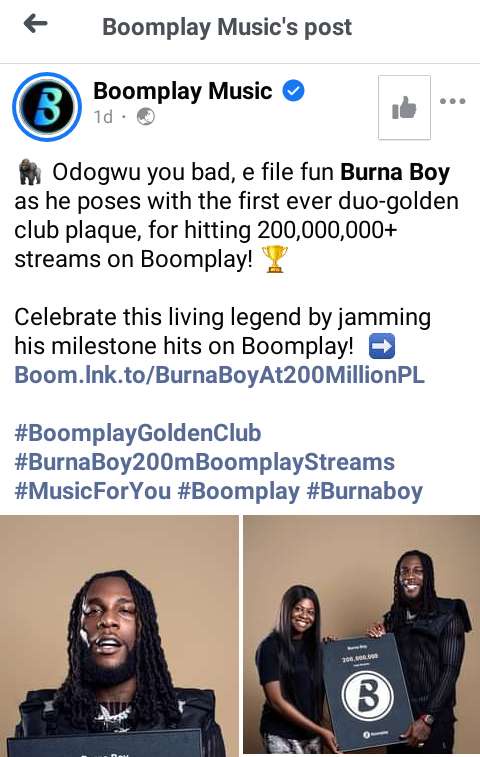 Obviously, the award-winning Nigerian singer is proud of himself today. Receiving awards is not new to him, but we speculate he would for two reasons, value this present so much. One of those reasons is consistency. Everyone knows how herculean it is to maintain a position at the top. As our people will say it, 'Burna boy has kept topping.'
The second reason is that this identifies him as outstanding of all African singers. Can you imagine? Not within a state, not a country or even two, in the whole of Africa!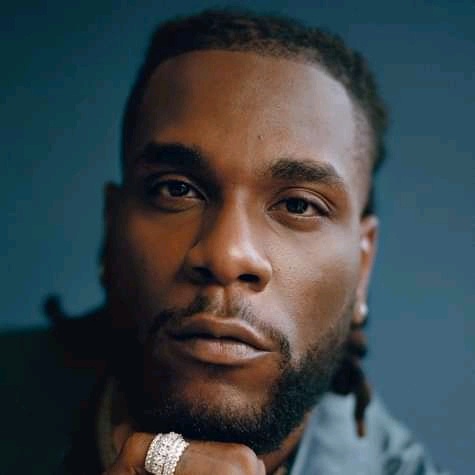 Following the trend, fans are so much happy for him, and in their reactions, some of them declared him greater than Shatta Wale, a Ghanaian singer.
At least, this was to them, a prove that Burna boy is greater than his colleague, Shatta Wale who has been in a quite serious conflict with him in the last few weeks.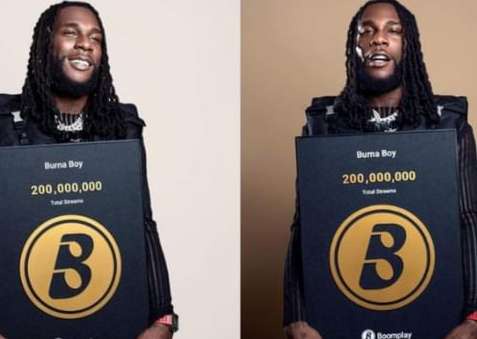 Recall that both singers wanted to know the greatest at a point, where Shatta Wale requested for a singing competition, and the latter insisted on a boxing challenge.
What is your pick on Burna boy's recent achievement? We would love to listen to you in the comment below